Originally posted on Women's Weekly Nov 11, 2023 6:00AM
Anja shares her journey in the hope of breaking the stigma about endo
Kiwi Olympic skier Anja Barugh was only 11 when she first started to experience crippling abdominal and back pain that would often cause her to run out of the classroom to vomit.
She thought it was a normal adjustment to having periods. But for more than a decade, the athlete secretly battled an insidious enemy within her own body every month, which at times made her question if it was just "all in her head".
After being diagnosed with endometriosis in April 2022 – mere months after her debut on the world stage at the Beijing Winter Olympics – Anja is now exclusively sharing her story with the Weekly to inspire other young women with it.
This month the 24-year-old is running the Queenstown Marathon to show it's possible to excel in sports while managing the inflammatory condition (where tissue similar to the lining of the uterus grows on the outside). She's also raising funds for Endometriosis New Zealand.
"I knew something wasn't right from the first few times I had my period," she shares from her home in Wānaka.
"I was always in the sickbay and would have to come home from school – if I even got to school in the first place – and I couldn't keep food down.
"Endometriosis wasn't something that was ever mentioned or talked about. I saw a gynaecologist at 13, but I was too young to have invasive surgery to find out what was going on."
Because the disease has diverse symptoms, and since there are no blood or imaging tests for it, women are often shuttled between doctors before they get a diagnosis.
As Anja discovered, the condition – which affects one in 10 Kiwi women – can go undetected for years.
"Birth control was thrown at me at a young age as a 'cure', but it was not great for me and caused more problems," she explains. "I went on the Mirena [hormonal medication] at 19, which is still birth control, because it was a bit easier to manage.
"I looked at more natural remedies too and ended up cutting out dairy from my diet which, for a girl who grew up on a dairy farm in Matamata, was pretty sad!"
Endometriosis feels different for everyone. For Anja, hers is mainly defined by intense nausea that makes her vomit. The dull ache in her abdomen then increases to feeling like a sharp knife stabbing her in her back and side.
The debilitating pain also took a toll on her mental health, especially as a teen.
"I was pretty active and loved sport, so I would get embarrassed when I couldn't do PE or felt that people thought I was making excuses. So I'd put on this brave front and be like, 'I'm fine.'
"I was made to feel like I was an attention-seeker, such as when I carried a hot water bottle around with me. No one tried to understand, so I kept it a secret. I tried to ignore the pain and often thought, 'Well, I just need to toughen up.'"
Anja, who now also works as a freelance photographer, began skiing at Mount Ruapehu when she was six years old. She moved from Pukehina to Wānaka in 2017, where she became interested in becoming a professional skier.
But the elite athlete believes that women athletes – especially those in a male-dominated sport like hers – tend to be hard on themselves.
"Endometriosis was something I felt ashamed to talk about… Saying to male coaches, 'Hey, I've got this condition, and I'm in pain and it's messing with my emotions.' So I'd tell myself, 'Well, every athlete is in pain from some sort of injury, so why is mine any different?' Or I'd try and make light of it. I remember saying jokingly, 'Hah, I just vomited at the start of a half pipe because I'm on my period!' Now it's like, 'No, actually, this is really hard for me.'"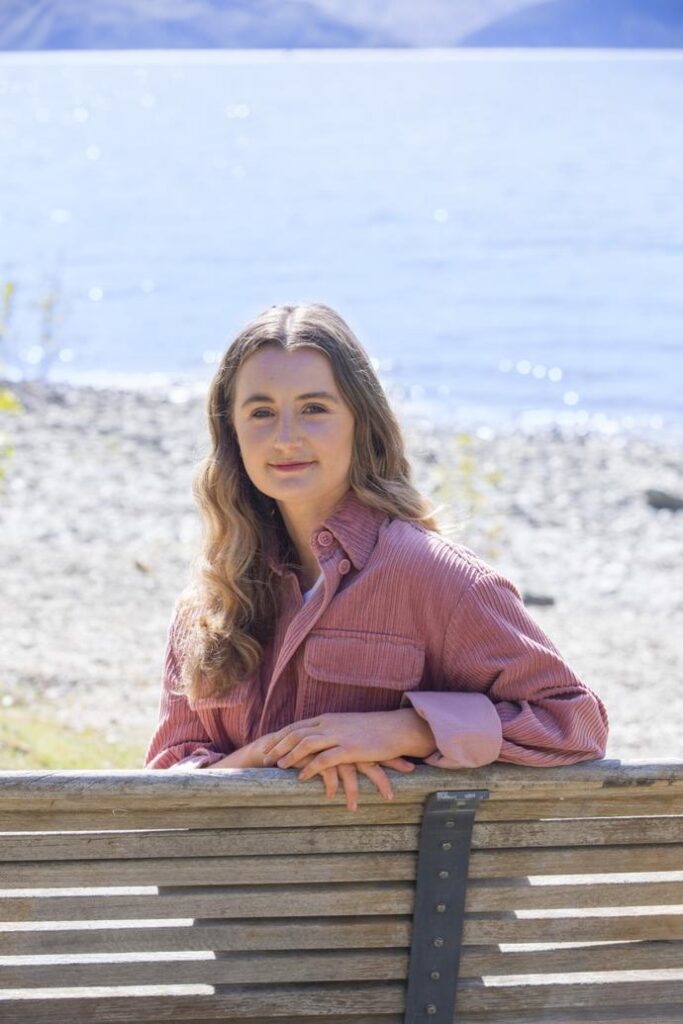 After competing at the 2020 Olympics – where Anja placed 19th in the Freeski Halfpipe – she made the decision to undergo surgery, with the support of her parents Kevin and Kerry-Lea.
"I was absolutely terrified that the operation might show the pain had been in my head for the last 10 years," she says.
"But I came out of it with the diagnosis, which gave me a huge sense of relief. They found my left ovary had stuck to my abdominal wall along with a cyst and endo on my bowels."
Now as she prepares for the 2026 Winter Olympics in Italy – "I'm going to get there!" – Anja says engaging in conversation about her condition has been daunting but essential.
"I do have a sense of anxiety opening up about it because I worry sponsors might perceive me as weak. But I believe that by being vulnerable and honest about my journey, it will help break the stigma and provide comfort to other women who may feel isolated with the condition too."
For more information on endometriosis or to donate, head to the link below: