Originally published in NZ Herald on Wednesday 8th March 2023
By Nicky Bond
Much-loved Australian conservationist Bindi Irwin has gone public with a private health battle that her younger brother Robert says has caused her a "decade of pain".
Irwin posted a candid photo to Instagram this morning of herself in a hospital bed, with the 24-year-old mum of one revealing in an accompanying caption that she had been living with "insurmountable fatigue, pain & nausea" for the past decade because of endometriosis.
Bindi, daughter to late wildlife expert and TV presenter Steve, wrote that she undergone "many tests, doctors visits, scans" as she tried to have the painful disease of the uterus diagnosed and treated. Endometriosis is a condition in which the cells that line the uterus also grow in other parts of the body, which can cause painful scar tissue.
"I battled for a long time wondering if I should share this journey with you in such a public space. It came down to the responsibility I feel to share my story for other women who need help," she wrote in the post, shared on International Women's Day.
"Trying to remain a positive person and hide the pain has been a very long road."

"A doctor told me it was simply something you deal with as a woman and I gave up entirely, trying to function through the pain," Bindi confessed, saying that it was the encouragement of a friend that made her decide to undergo surgery.

Bindi Irwin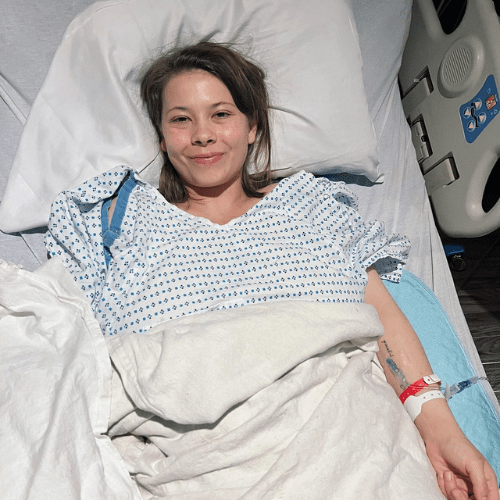 "Going in for surgery was scary but I knew I couldn't live like I was. Every part of my life was getting torn apart because of the pain. To cut a long story short, they found 37 lesions, some very deep & difficult to remove, and a chocolate cyst," Bindi revealed.
She also shared her doctor's heartbreaking first words to her after the surgery: "How did you live with this much pain?"
Irwin thanked the doctors and nurses who had treated her and "who believed in my pain".
"I'm on the road to recovery and the gratitude I feel is overwhelming. To those questioning the cancelled plans, unanswered messages and absence – I had been pouring every ounce of the energy I had left into our daughter and family," she wrote.
Irwin said she was sharing her story to help battle stigma around the "awful disease" that is endometriosis, and to let other women suffering know that "your pain is real and you deserve help". She encouraged others to visit the Endometriosis Foundation to find answers.
The post has already been flooded with supportive comments – and her younger brother Robert posted to his own 3.6m Instagram followers today, encouraging them to read her story and telling them he is "so proud" of his big sister.
"It's been a long battle through a decade of pain, but you are finally on the road to recovery. I'm so happy you can have your life back. Endometriosis is a horrible, crippling disease and too many women endure this in silence, or are never even diagnosed. Bindi, your story of resilience is a beacon for women around the world who are suffering – and it's a wake up call for men too. It's *everyone's* responsibility to be allies for womens health and help spread awareness," he wrote.
Bindi married her husband, American wakeboarder Chandler Powell, in 2020, and the couple share a daughter, Grace, who turns 2 this month.
Disclaimer: The article is written by NZ Herald and does not necessarily reflect the opinions of Endometriosis New Zealand.